Are you planning to wear something special for your big, special night but worried about being plus size? Sexy lingerie is what will make you look best for your special night. Here is an exclusive sexy lingerie list for plus size women, which will make your partner fall in love with you once again.
Strappy Babydoll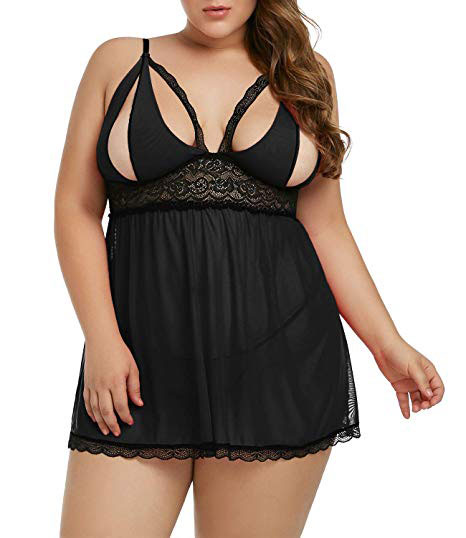 It is made up of Nylon and Spandex. To maintain the lingerie well, hand wash it with cold water and avoid bleaching, line drying, and ironing. The strappy babydoll lingerie will make you intensely bold, as a new object of desire. It will perfectly fit and support up to an H cup. It is designed with a soft mesh skirt with hook and eye back closure. The cups of this babydoll are lightly padded. This is perfect lingerie for plus size women to seduce their partners.
Floral Stretch Lace Chemise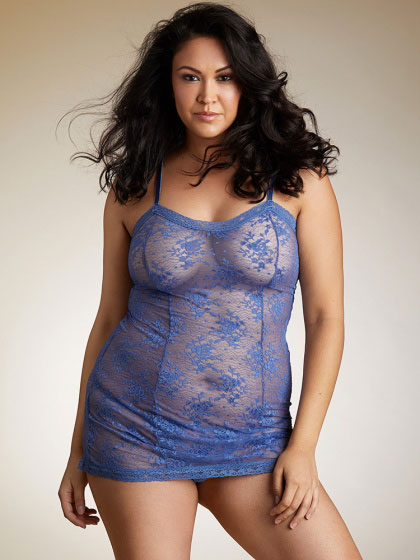 This is one of the sexiest lingerie which will provide you with the looks of a sexy diva. This lingerie is made up of 90% nylon and 10% spandex. For maintaining it, wash the lingerie by hands separately from the other clothes and with cold water. The floral stretch lace chemise has a slightly fitted shape with a lace trim neckline and hem. It has adjustable shoulder straps with matching G-String. If you are looking for sexy lingerie for a special date and planning to give your hubby a surprise, this is the ideal one. It will make you look sexy like never before.
High Neck Scalloped Edge Lace Teddy
This lingerie is going to make you look extraordinarily elegant, beautiful and sexy. The strappy detailing in front and back makes this lingerie an absolute sexy outfit of the decade. It has satin shelf cups with lace overlay. It has crotch with cotton lines and triple hook and eye closing on the back of the bra. You can also adjust the elastic back straps with j-hook details for a racerback effect. It comes in black color, which makes it look sexier. Your partner is definitely going to fall for you again seeing you in this lingerie.
Lace and Mesh Bustier with Stocking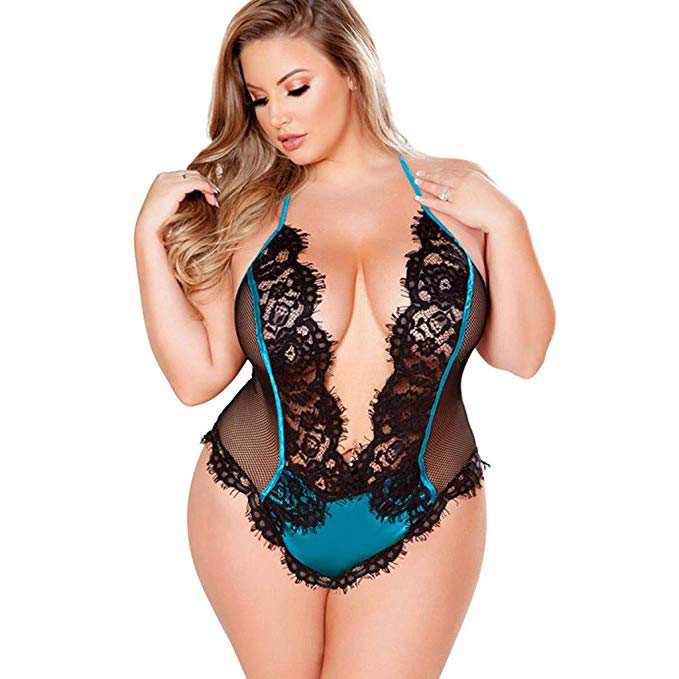 It is going to be hard for your partner to resist eating you whole once he sees you in this lingerie. The lace and mesh with stocking include bustier, matching mesh g-string and thigh high stocking. It has lace cups lined with nude powder mesh and has adjustable shoulder and garter straps. It is made up of 92% nylon and 8% elastane.
Stretch Lace Plunging Neckline Teddy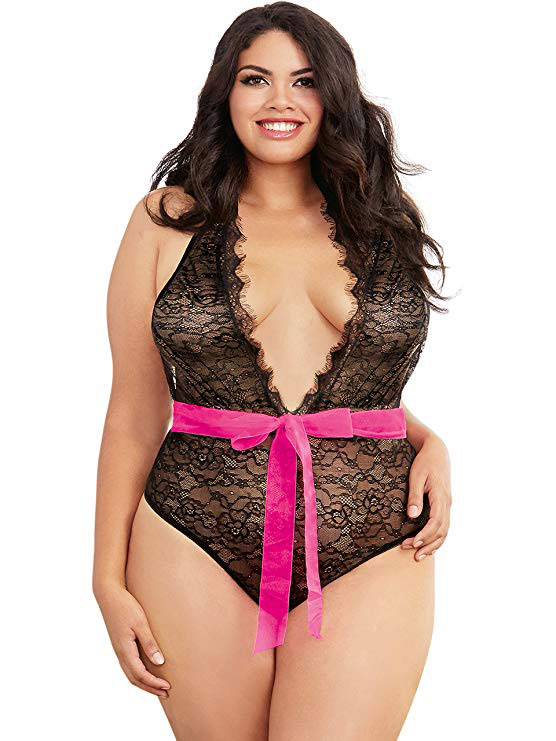 This lingerie set is made up of 90% nylon and 10% spandex. You need to hand wash it separately if you want to keep it in good condition. Try to avoid bleaching and line drying. This lingerie has all over stretch lace with soft cups. It is designed with a key-hole in front. The hi-cut leg with thong style in back gives it a sexy look. It has adjustable shoulder straps. This lingerie is ideal for plus size women. It is surely going to make you look glamorous, sexy and confident.
Lace Fishnet Dress with Collar and Zipper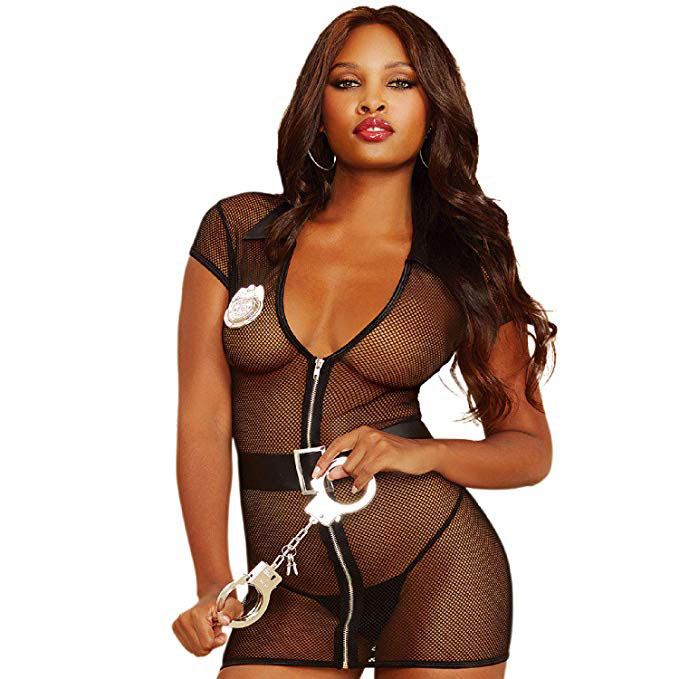 This dress is made up of Polyster and Spandex. Washing in cold water with hands is recommended. Avoid bleaching and ironing. The racerback silhouette detailed with lace will make you look hotter like never before. Get ready to rock the night of your partner with this choice.
Stretch Lace Garter Tank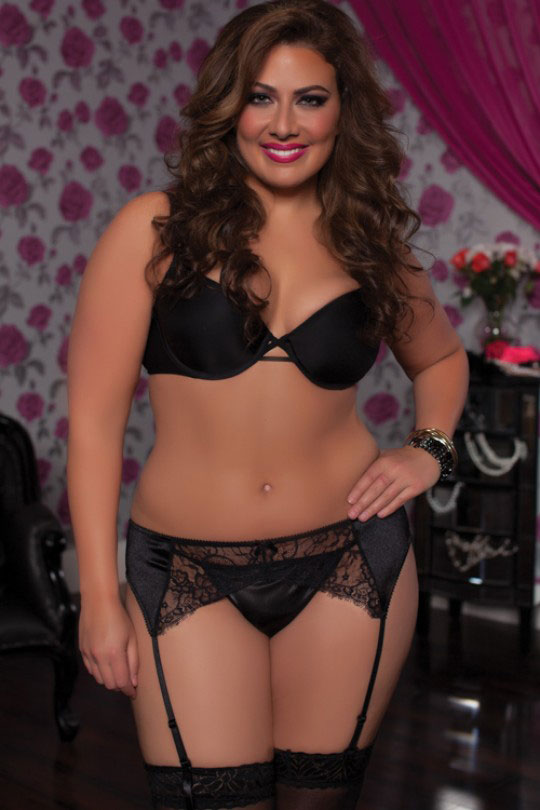 This lingerie is made up of nylon and spandex. It is preferable to wash it with cold water instead of bleaching and drying. This lingerie is perfect for some special night affairs. The garter tanks with scalloped edge lace half cups will make your hubby go crazy. It has underwire cups for little support and matching crotchless g-strings with bows made of satin. It is a perfect option for curvy and overweight girls.
Full Lace Robe with Satin Sash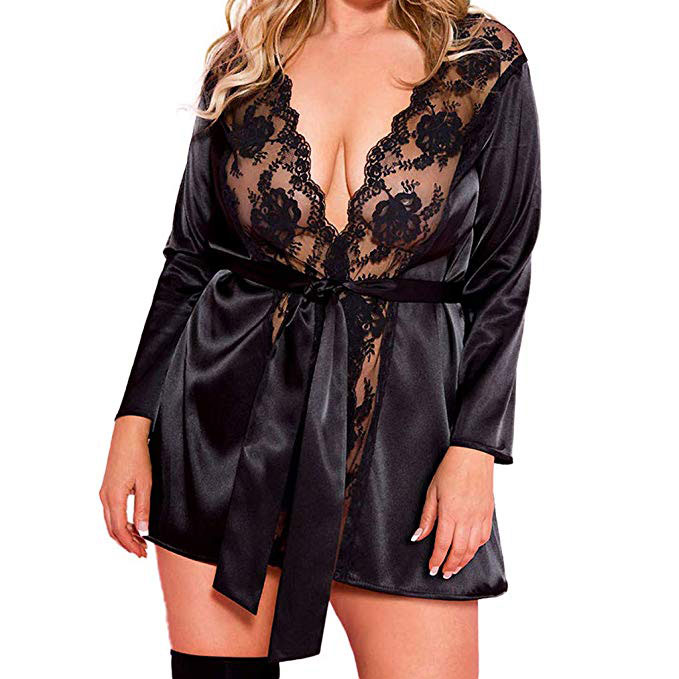 This plus size robe is beautifully designed with satin sash. This dress is going to give a sensual hint of what's inside to your partner. It is going to make him feel sensuous for you.
Stretch Micro Lace Halter Plus Size Jumpsuit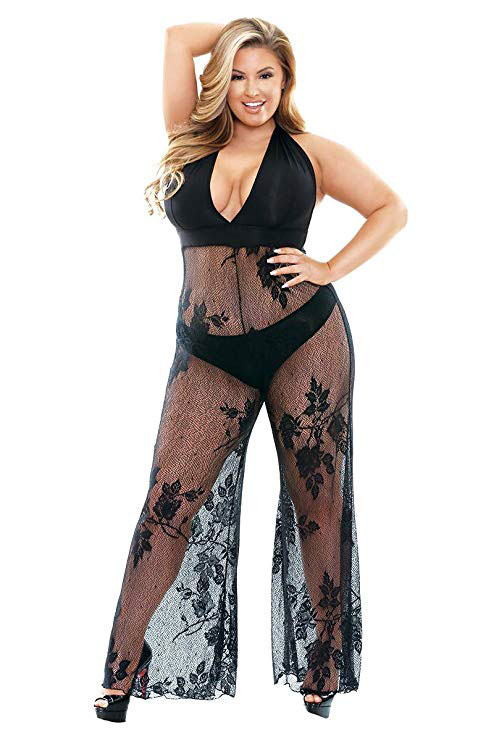 This jumpsuit is made up of 100% nylon. Bleaching and flat drying are not recommended. This lingerie has a neckline with a low cut, sheer floral lace body, and long pants. It comes with a matching black panty. It is going to give you a unique as well as a sensuous bold look.
Strappy Lace and Charmeuse Gown
The lingerie is made up of polyester. This dress will gracefully fit your curves and will make them look sexier. It has double and adjustable back straps. The dress is very soft because of soft lace cups, which will add up to some more comfort and sex appeal. If you want to avoid wearing some absolutely sexy lingerie, this charmeuse gown will help you give an elegant as well as sexy look together.
Be confident with what you choose among these lingerie options. After all, it is you whom your partner is going to relish, not the mere piece of fabric.