There is a wide variety of hair extensions and styles available on the market for you to choose. If you are a newbie in hair extensions, you may find it difficult and complicated. However, they are not as complex as you may think if you focus on their details. For example, you will notice that not all luxury hair extensions are 100% human hair clip-ins. They are not limited to this type but include the widest variety possible. We hope to provide clarity and help you make an informed choice on your style. Pick one you are sure will last you a long time because it fits you properly.
Real human Hair extension versus Synthetic Hair extensions
Before we explore the different types, it is important to not the difference between the available products based on their methods of manufacture. The process of making the extension defines their outcome. For example, while human hair extensions are made of real human hair derived from donors, synthetics are blended fibers with no real human hair content. The real human hair extensions have the cuticle intact, running in the same direction at the time of collection. This ensures there is little tangling to retain smooth and silky feel throughout their lifetime. Since the fibers in synthetic extensions are manufactured to imitate real human hair, they are fine and prone to tangling.
Here are the different types of extension applications
Clip-in Hair Extension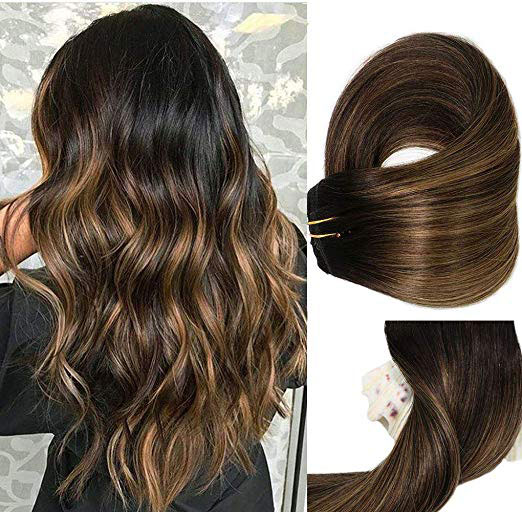 Clip in wefts are commonly known for their contoured pieces attached at the base with fabric or silicone. There are clips, which are attached to the base and come ready for use. All you need is clip them to your natural hair and you are ready to go. Each of the clip can snap open and close with ease to hold to your natural hair. If you are a newbie, you will need some help to learn how to clip them in. They are easy to use and you will learn quickly, though. These are the least permanent option because they are easy to remove and put them back as quickly as you can. Most importantly, they are durable because they are the least damaging as they do not involve any chemicals, heat or pressure and any other process of installation. This means there is no risk of damage to your natural hair. For this reason, it is among the most popular type of hair extension.
Tape-In Hair Extension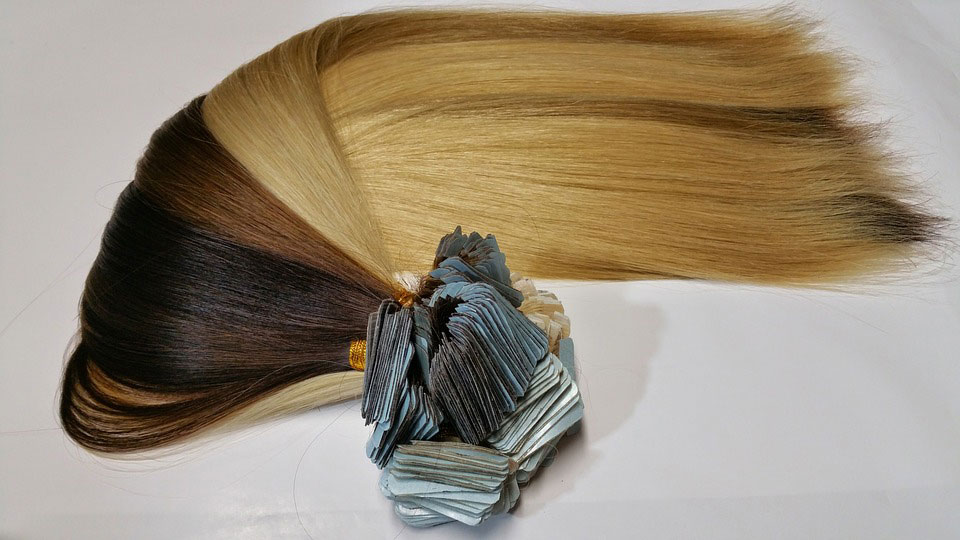 Like the clip-in extension, the tape-in types derive their name from how they are attached to your natural hair. They come pre-taped and then glued together on each side of your own hair. In the salon, a professional hairdresser will apply tape-ins as they align them for you. You need them to go with the roots hence the heated tools to prepare the glue for the attachment. This also means you will need glue remover in the removal process for re-installation. You risk damaging your hair follicles with this type of application, which takes between half hour to a full hour depending on the condition of the extensions. The best part is that they can be re-used if they are still in good condition.
Sew-In Hair Extensions/Weave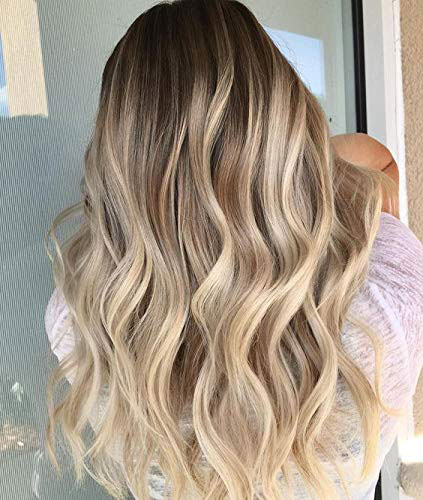 Weave hair is traditionally applied using braiding of the natural hair into cornrows. This is the first crucial step to allow you make strong attachments. Using a needle and thread, you hairdresser will sew the eave into the braids or cornrows. This style is best used by people with generally thick hair. Application of weaves takes longest compared to other types of hair extensions. You will be waiting for several hours before the process is completed. For a perfect and durable application, you will need tight sewing to put a strain on the scalp. The downside is that when it weighs heavy, you will be uncomfortable hence the need of thick hair as the best option. Beware that it is not recommendable for people with thin or light hair.
You will need an experienced hairdresser to complete the weave application. The technicality involved requires the skills of a professional because it can be difficult to sew them in place. Sew-ins often come in wig form and need the expertise of an experienced person to make them perfect. Weaves remain popular because they are the most permanent and seamless. Since the hair is literally sewn into your hair, it stays longer than the rest of the extensions.
Fusion and Pre-bonded Hair Extensions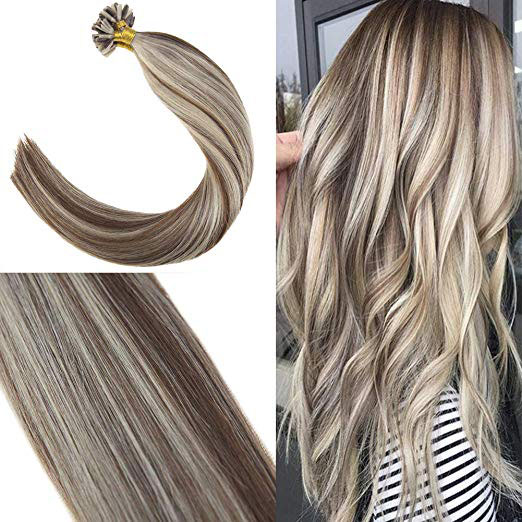 Fusion extension are commonly known as pre-bonded or bonding alternatives. They are fused to natural hair with different adhesives such as glue and take as long as 4 hours to complete depending on your thickness of hair.
They are not recommended for everyone especially if the hair is sensitive and might damage your hair easily. Application of fusion extension requires a machine, which resembles a hot glue gun. It is used to stick the hair to the individual stands of the natural air. Other hairdressers may prefer to use heat clamps to melt the glue to the natural hair.
Do hair extensions damage your hair?
Temporary hair extensions like clip-ins will not cause any damage to your hair. The reason they are so safe is that you wear them only when you want. After a day-long use, you will remove them. However, permanent hair extensions may cause hair damage.
How long do hair extensions last for?
Clip-in hair extensions are temporary and you can use them whenever you want and remove when not required. Tape-in hair extensions can last from anywhere between 3 to 6 months. Fusion hair extensions will last for 3 to 5 months.
Can you get permanent hair extensions?
Yes, there are permanent hair extensions that are attached to your own hair as close to your scalp as possible. This procedure is done by an expert. There are various types of permanent hair extensions as mentioned below:
Glu-ins (Keratin bonded)
Micro Ring / Loop / Bead Extensions
Tape-in extensions
How much does it cost for hair extensions?
For good quality clip-in extensions, the cost may vary from $200 to $300. Tape-ins are available for around $250 and the salon will charge an additional $150 for installation. The total cost for Glu-in extensions is around $500 including installation cost. Keratin Bond hair extensions will cost you between $1000 and $1500.